Poptober
Fuel Your Adventures with Popcorns
Why Poptober ?
POptober is a way to raise funds for our Pack by selling popcorn door to door.
It provides an opportunity to our Cubs to go out there and talk to their friends, families, neighbors, gives them confidence
Teaches them a valuable lesson of life, learns how to take NO for an answer
Cubs learns how to "Earn their way"; very important
Chance to be recognized among peers and within scouting community; win big Prizes.
You can sell popcorn:
Door to Door: This is a preferred and proven method and It Works!
Customers see the Cub Scout! It is difficult for a customer to say "no" to a young Cub Scout in uniform.
Begin your conversation by "Will you help me …"
It gives the Scouts face to face sales experience.
Scouts take the orders and submit to the Pack. We submit to District and pick up the orders at a later date. We distribute the orders to the Pack.
Customers can pay by cash or check. Make checks payable to "Pack 758".
Although, we don't mandate this for our cubs, but we recommend each scout to make at least 5 sales.
Prizes and Incentives:

Council Incentives: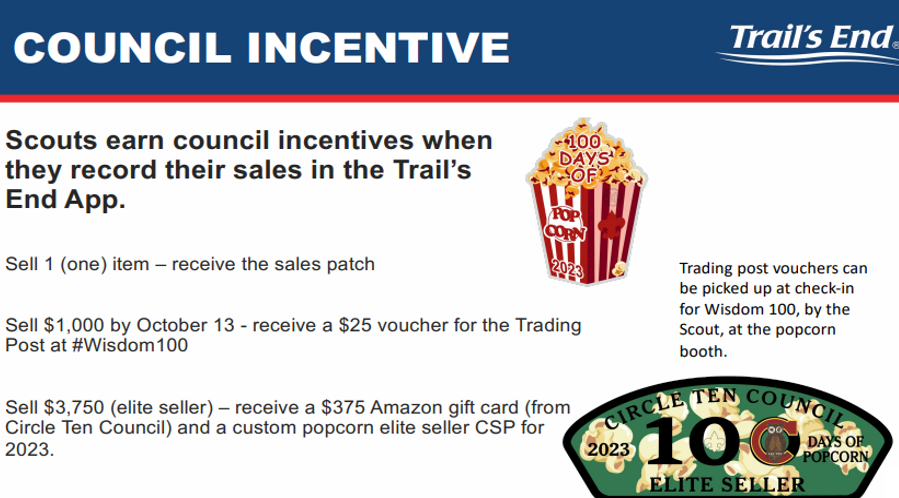 Safety Tips:
Always wear your Uniform
Always sell with an adult and/or with a group
Never enter anyone's home
Do not sell after dark
Always stay on the sidewalks and driveways
Never carry large amounts of cash
Selling script:
Hi, my name is ­­­­­­­­­­­­­­­­_________ (say first name only)
I am a Cub Scout with Pack 758
I am selling Trail's End Popcorn so that I can earn my way to camp
You can support me by buying some of our gourmet popcorn (hand the customer the Take Order form and a pen)
Will you help me earn my way to Camp?
Training Vides:
Parent Training Video – Teresa Barrnett
Watch this video with information from Teresa Barnett, District Kernel for Ozark Trails Council.
Scout Training
Have parents and Scouts watch this video to see the benefits of selling Trail's End.
Important Dates:
Poptober Kick-off (Pack Meeting)

Pack's Poptober Order Forms Collection

Poptober 2023 Campaign Concludes / Sales Ends

Pack's Poptober Order Distribution Day (one day only)